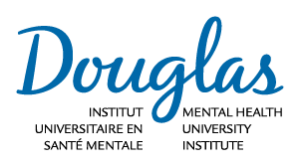 The Centre for Studies on Prevention of Alzheimer's Disease (StoP-AD) was created in 2010, at the Research Centre of the Douglas Mental Health University Institute, under the leadership of Drs John C. S. Breitner, MD, MPH, Judes Poirier, PhD and Pierre Etienne, MD.
Program current Director is Sylvia Villeneuve, PhD, the Associate Director is Judes Poirier, PhD and the Study Coordinator is Jennifer Tremblay-Mercier, MSc.
The primary goal of the StoP-AD Centre is to pursue innovative studies of the 'presymptomatic' phase of Alzheimer Disease using multimodal measurements of various disease indicators including, genetic variants, neuroimaging, cerebrospinal fluid collection, neurosensory markers, neuropsychological and medical evaluations.
The StoP-AD Centre's main resource is the observational PREVENT-AD (Pre-symptomatic Evaluation of Experimental or Novel Treatments for AD) cohort. This sample comprises cognitively healthy persons with a parental or multiple-sibling history of Alzheimer-like dementia. These 'at-risk' participants are followed for a naturalistic study since 2011. Two clinical trials intended to test pharmaco-preventive agents have also been conducted to date.
Data management of the StoP-AD Centre is performed through LORIS which provides technical infrastructure to handle the acquisition, storage, and curation of the data in order to facilitate data sharing with the research community.