Observational Cohort
The observational cohort was intended to observe natural brain changes and cognitive performance over time.
After confirmation of eligibility (after telephone screening, eligibility and enrolment visits) our research participants underwent their 'baseline' visit which was repeated annually afterward. See section 'measuring disease progression' for the description of the evaluations.
Main Inclusion criteria :
55 years old or more
First-degree relative affected by Alzheimer's Disease
Cognitively normal
Stable general health
See below for detailed inclusion/exclusion criteria
Visit schedule:

EL: eligibility visit; EN: enrolment visit; BL: Baseline visit; M: months;

Visits progression, as of April 2019: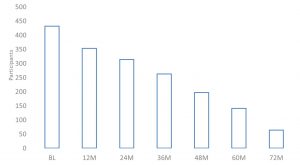 Note: These bars represents the number of visits done at the Centre, at each timepoint in total. This dataset is slightly larger than the quality controlled dataset which, in turns, is larger than the openly shared dataset (due to the ongoing re-consent process).
Recruitment:
Started November 2011 – Ended May 2017
We enrolled 425 participants in the PREVENT-AD program and now continue to follow 330 participants annually. 
Detailed inclusion & exclusion criteria
Inclusion criteria
Parental or multiple-sibling  history of Alzheimer-like dementia
Age 60 years or older (persons aged 55-59 years and  < 15 years younger than their affected  index relative were also eligible.)
Minimum of 6 years of formal education
Study partner available to provide information on cognitive status
Sufficient fluency in spoken and written English and/or French
Ability and intention to participate in regular visits
Provision of informed consen
Agreement for periodic donation of blood and urine samples
Agreement to participate in periodic multi-modal assessments via MRI and neurosensory testing, and (optional and later on obligatory) LPs for CSF collection,
Agreement to limit use of medicines as required by investigational protocols
Exclusion criteria
Known or identified cognitive disorder
Use of acetyl-cholinesterase inhibitors including tacrine, donepezil, rivastigmine, galantamine
Use of memantine or other approved prescription cognitive enhancer
Use of vitamin E at greater than 600 i.u. / day or aspirin at >325 mg / day
Use of opiates (oxycodone, hydrocodone, tramadol, meperidine, hydromorphone)
Use of NSAIDs or of systemic or inhalation corticosteroids
Clinically significant hypertension (OK if controlled medically), anemia, significant liver or kidney disease
Concurrent use of warfarin, ticlopidine, clopidrogel, or similar anti-coagulant
Current plasma Creatinine >1.5 mg/dl (132 mmol/l)
Current alcohol, barbiturate or benzodiazepine abuse/dependence
CSF: cerebrospinal fluid; MRI: magnetic resonance imaging; NSAID: non-steroidal anti-inflammatory drug; LP: lumbar puncture